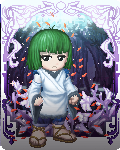 Zanku Hishiro is a supporting character and a former antagonist in the anime, Dragon Tidal. He was the secondary antagonist of the Land of Dragons arc, and was the student and unofficial adopted son of Kinzaki Shinobu. He has a deep bond with Kinzaki, willing to even give up his life to save him. As a result of this, Kinzaki used Zanku as the vessel of the Creation: Revival Ritual, in hopes of resurrecting his extinct clan. Zanku is special to Kinzaki, as he is considered the "Ultimate Weapon" by Kinzaki himself, as well as beholding a powerful Kekkei Renkei.
Debut
Anime
DT Episode #22
Movie
Dragon Tidal: N/A
Appears in
Manga, Anime, Movies
Personal
Birthdate
April 3, 1957
Gender
Male
Age
Classification
Affiliation
Ranking
B Rank
Academy Grad. Age
17

Tribe/Clan

Dragon Clan
Background Information
Edit
Write the first section of your page here.
Personality
Edit
Write the second section of your page here.
Appearance
Edit
Abilities
Edit
Okappa Form
Edit
Clan Heritage
Edit
Land of Dragons Arc
Edit
Major Battles
Edit
List of Techniques
Edit
Dragon Tidal
Technique
Season
Episode
Status
Dragon Absorb
Season 1
Episode 35
Jubitzu
Lotus Kick
Season 1
Episode 35
Jubitzu
Lotus Control
Season 1
Episode 38
Rinkado
N/A
N/A
N/A
N/A
N/A
N/A
N/A
N/A
Relationships
Edit
Community content is available under
CC-BY-SA
unless otherwise noted.