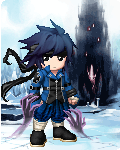 Zandso Zinsio is a primary character and the deuteragonist in the anime, Dragon Tidal. He is the best friend, as well as the arch-rival of series protagonist, Nagatsu Ikune, and in contrast to Nagatsu's poverish lifestyle, Zandso's family is quite wealthy, although he doesn't seem to be particularly close to his family like Nagatsu is. After the events of the Zinsio Tribe War, as well as the isolation of him with his family, Zandso's goals involves restoring his tribe, as well as seeking revenge on the one who destroyed its society.
Debut
Anime
DT Episode #1
Movie
Dragon Tidal: N/A
Appears in
Manga, Anime, Movies
Personal
Birthdate
July 17, 1961
Gender
Male
Age
Classification
Affiliation
Ranking
C Rank
Academy Grad. Age
13

Family




Dasuka Zinsio (Father)
Zantsu Zinsio (Brother)
Natami Zinsio (Mother)

Tribe/Clan

Zinsio Tribe
Background InformationEdit
Write the first section of your page here.
PersonalityEdit
Write the second section of your page here.
AppearanceEdit
AbilitiesEdit
Crimson Sealing TransformationsEdit
Clan HeritageEdit
Academy ArcEdit
Major BattlesEdit
Academy Finals Exams Arc (Season 2)
Opponent(s)
Episode(s)
Outcome
Kaiyou Jusenkyo
46
Lose
N/A
N/A
N/A
N/A
N/A
N/A
List of TechniquesEdit
Dragon Tidal
Technique
Season
Episode
Status
Warrior's Barrage
Season 1
Episode 1
Jubitzu
Fire Tycoon
Season 1
Episode 13
Rinkado
Chi Release
Season 1
Episode 33
Rinkado
N/A
N/A
N/A
N/A
N/A
N/A
N/A
N/A
RelationshipsEdit