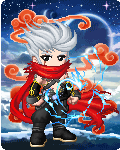 White Fang, a.k.a. Zatashi is a primary character and one of the main protagonists in the anime, Dragon Tidal. He is a head sensei of Azura Academy, as well as a the famous son of Zukizsi Zunishi, the second Dragon Tidal of the world. He is the unofficial head sensei of Nagatsu Ikune, Zandso Zinsio, Viivuna Juvia, and Madora Rukibata as he keeps a close eye on them, observing their progress throughout their adventures. White Fang's past causes him to disappear at certain times to show up at a burial site specifically for not only his father, but for his close friends that died in the war.
Debut
Anime
DT Episode #1
Movie
Dragon Tidal: N/A
Appears in
Manga, Anime, Movies
Personal
Birthdate
April 4, 1948
Gender
Male
Age
Classification
Affiliation
Ranking
S Rank
Academy Grad. Age
26

Family




Tribe/Clan

Zunishi Tribe
Background Information
Edit
Write the first section of your page here.
Personality
Edit
Write the second section of your page here.
Appearance
Edit
Abilities
Edit
Black Rose Forms
Edit
Clan Heritage
Edit
Major Battles
Edit
Academy Arc (Season 1)
Opponent(s)
Episode(s)
Outcome
Sgt. Yoto
8-11
Win
List of Techniques
Edit
Dragon Tidal
Technique
Season
Episode
Status
Body Takedown
Season 1
Episode 11
Jubitzu
Thundershock
Season 1
Episode 26
Rinkado
Young Lightning
Season 1
Episode 26
Rinkado
Clear Strangle
Season 1
Episode 33
Jubitzu
Blue Lightning
Season 1
Episode 39
Rinkado
Community content is available under
CC-BY-SA
unless otherwise noted.