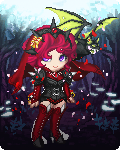 Viivuna Juvia is one of the primary characters and is the tritagonist of the anime, Dragon Tidal. She is in love with Zandso Zinsio, and has been an admirer of his for a long time. As a martial artist, Viivuna is extremely ruthless in her approaches, as she also struggles with not only her feelings for Zandos, but with her emotions with the abaondonment of her parents as they split up a few years ago, causing her to know what real pain feels like. She has become quite fond of Nagatsu Ikune, often treating him as an extremely close friend.
Debut
Anime
DT Episode #1
Movie
Dragon Tidal: N/A
Appears in
Manga, Anime, Movies
Personal
Birthdate
August 1, 1961
Gender
Male
Age
Classification
Affiliation
Ranking
C Rank
Academy Grad. Age
13

Family




Ansio Juvia (Father)
Kamui Juvia (Mother)

Tribe/Clan

Juvia Tribe
Background Information
Edit
Write the first section of your page here.
Personality
Edit
Write the second section of your page here.
Appearance
Edit
Abilities
Edit
Black Rose Forms
Edit
Clan Heritage
Edit
Major Battles
Edit
List of Techniques
Edit
Dragon Tidal
Technique
Season
Episode
Status
Rose Whip
Season 1
Episode 9
Jubitzu
Constrict
Season 1
Episode 22
Rinkado
N/A
N/A
N/A
N/A
N/A
N/A
N/A
N/A
N/A
N/A
N/A
N/A
Relationships
Edit