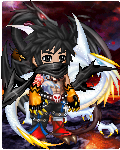 Starr Ikune is a major supporting character in the anime, Dragon Tidal. He is the older adpotive brother of Nagatsu Ikune, as well as a graduate of Azura Academy. He was found a few after the war, where his Nagatsu's father and mother found him and his brother, Kaito Ikune, both in. After Sogotana's supposed death, Starr couldn't take the pressure of realizing that he might be cursed with the fate of his new family dying as well. Escaping from this fate, he eventually goes rogue, defecting to the Tsunami Twelve.
Debut
Anime
DT Episode #1
Movie
Dragon Tidal: N/A
Appears in
Manga, Anime, Movies
Personal
Birthdate
September 12, 1954
Gender
Male
Age
Classification
Affiliation
Ranking
S Rank
Academy Grad. Age
20

Family




Sogotana Ikune (Father)
Mino Ikune (Mother)
Yoruka Ikune (Grandfather)
Nagatsu Ikune (Brother)
Kaito Ikune (Brother)
Suki Ikune (Sister)

Tribe/Clan

Ikune Tribe
Background Information
Edit
Write the first section of your page here.
Personality
Edit
Write the second section of your page here.
Appearance
Edit
Abilities
Edit
Jusakū Transformations
Edit
Clan Heritage
Edit
Academy Arc
Edit
Major Battles
Edit
Academt Finals Exams Arc (Season 2)
Opponent(s)
Episode(s)
Outcome
Nagatsu Ikune
42
Win
N/A
N/A
N/A
N/A
N/A
N/A
N/A
N/A
N/A
List of Techniques
Edit
Dragon Tidal
Technique
Season
Episode
Status
Swift Shot
Season 2
Episode 41
Jubitzu
N/A
N/A
N/A
N/A
N/A
N/A
N/A
N/A
N/A
N/A
N/A
N/A
N/A
N/A
N/A
N/A
Relationships
Edit
Community content is available under
CC-BY-SA
unless otherwise noted.