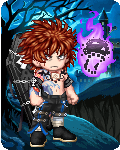 Ragnarok of the Red Sand is a major supporting character in the anime, Dragon Tidal. Originally an antagonist, Ragnarok was created as a foil, as well as a rival to the series main protagonist, Nagatsu Ikune. He is the younger brother of both Kamari Suichi and Regaku Suichi. He is one of the twelve Demonchildren, as well as the first host of the KyaiRa demon spirit. Ragnarok is meant to parallel Nagatsu's character as growing up in the same environment and both being treated outcasts, and choosing different paths to follow that influenced them. Ragnarok was given his coffin at birth as it is formed along with the Kyaira spirit.
Debut
Anime
DT Episode #43
Movie
Dragon Tidal: N/A
Appears in
Manga, Anime, Movies
Personal
Birthdate
February 29, 1962
Gender
Male
Age
Classification
Affiliation
Ranking
A Rank
Academy Grad. Age
20

Family




Mazaki Suchi (Father)
Kamari Suichi (Sister)
Regaku Suichi (Brother)

Tribe/Clan

Suichi Tribe
Background InformationEdit
Write the first section of your page here.
PersonalityEdit
Write the second section of your page here.
AppearanceEdit
AbilitiesEdit
Jusakū TransformationsEdit
Clan HeritageEdit
Academy Finals Exams ArcEdit
Major BattlesEdit
Academt Finals Exams Arc (Season 2)
Opponent(s)
Episode(s)
Outcome
Kaito Ikune
43
Win
N/A
N/A
N/A
N/A
N/A
N/A
N/A
N/A
N/A
List of TechniquesEdit
Dragon Tidal
Technique
Season
Episode
Status
N/A
N/A
N/A
N/A
N/A
N/A
N/A
N/A
N/A
N/A
N/A
N/A
N/A
N/A
N/A
N/A
N/A
N/A
N/A
N/A
RelationshipsEdit