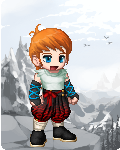 Nagatsu Ikune is the main protagonist, and the central character of the anime, Dragon Tidal. He is of the Ikune Tribe, a poverish tribe that is widely considered the lowest class among all of the tribes. Nagatsu's desire for recognition, as well as to bring his family out of the shadow, along with an ancient demonic entity dwelled deep within him, captures his emotions, goals and dreams as a fighter. Nagatsu's poor lifestyle and tough life forces him into an evironment where he struggles to be respected, which ultimately fuels his goal to be realizes as something more than just a "low class" or "scum of the food chain." Nagatsu strives to prove to the world that he is more than what people see to him, showing a true warrior from within. Nagatsu is the host of the twelfth and most powerful Kyairanum Demons, Kyairai. His goal is to prove himself to the world, that both he and his tribe are not nobodies, and to gain the title as the Dragon Tidal of the world.
Debut
Anime
DT Episode #1
Movie
Dragon Tidal: N/A
Appears in
Manga, Anime, Movies
Personal
Birthdate
February 29, 1962
Gender
Male
Age
Classification
Affiliation
Ranking
E Rank
Academy Grad. Age
12

Family




Sogotana Ikune (Father)
Mino Ikune (Mother)
Yoruka Ikune (Grandfather)
Starr Ikune (Brother)
Kaito Ikune (Brother)
Suki Ikune (Sister)

Tribe/Clan

Ikune Tribe
Background Information
Edit
Write the first section of your page here.
Personality
Edit
Write the second section of your page here.
Appearance
Edit
Abilities
Edit
Jusakū Transformations
Edit
Clan Heritage
Edit
Academy Arc
Edit
Major Battles
Edit
Academy Finals Exams Arc (Season 1)
Opponent(s)
Episode(s)
Outcome
Starr Ikune
42
Lose
Kaiyou Jusenkyo
46
Lose
N/A
N/A
N/A
N/A
N/A
N/A
List of Techniques
Edit
Dragon Tidal
Technique
Season
Episode
Status
Dragon's Barrage
Season 1
Episode 6
Jubitzu
Clone Ability
Season 1
Episode 23
Rinkado
N/A
N/A
N/A
N/A
N/A
N/A
N/A
N/A
N/A
N/A
N/A
N/A
Relationships
Edit
Community content is available under
CC-BY-SA
unless otherwise noted.