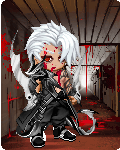 Kinzaki Shinobu is a major antagonist and the main villain of the Land of Dragons arc in the anime, Dragon Tidal. He is the longest lasting member of the Dragon Clan, and seeks to revive the nearly extinct clan through using the secret scrolls of Azura Academy to use Zanku Hishiro as the vessel. Along with being a member of the Seven Shangshai Slayers, Kinzaki's goals may be antagonistic, but they were for a good cause.
Debut
Anime
DT Episode #19
Movie
Dragon Tidal: N/A
Appears in
Manga, Anime, Movies
Personal
Birthdate
February 6, 1945
Gender
Male
Age
Classification
Affiliation
Ranking
A Rank
Academy Grad. Age
29

Family




Tribe/Clan

Dragon Clan
Background Information
Edit
Write the first section of your page here.
Personality
Edit
Write the second section of your page here.
Appearance
Edit
Abilities
Edit
Clan Heritage
Edit
Land of Dragons Arc
Edit
Major Battles
Edit
List of Techniques
Edit
Dragon Tidal
Technique
Season
Episode
Status
Mystic Bubble
Season 1
Episode 20
Rinkado
Sonic Blades
Season 1
Episode 32
Jubitzu
Hidden Mist: Ice
Season 1
Episode 35
Rinkado
Tsunami Blade
Season 1
Episode 39
Jubitzu
Soul Resurrection
Season 1
Episode 39
Rinkado
Relationships
Edit