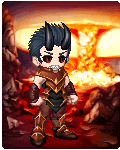 Dodolu Rizu is a minor antagonist in the anime, Dragon Tidal. He is a member of the secretive Dragon Clan, under the leadership of Kinzaki Shinobu. As a member, he has secret abilities exclusive to his clan.
Debut
Anime
DT Episode #14
Movie
Dragon Tidal: N/A
Appears in
Manga, Anime, Movies
Personal
Birthdate
February 6, 1935
Gender
Male
Age
Classification
Affiliation
Ranking
C Rank
Academy Grad. Age
39

Tribe/Clan

Dragon Clan
Background Information
Edit
Write the first section of your page here.
Personality
Edit
Write the second section of your page here.
Appearance
Edit
Abilities
Edit
Dragonscale
Edit
Clan Heritage
Edit
Land of Dragons Arc
Edit
Major Battles
Edit
List of Techniques
Edit
Dragon Tidal
Technique
Season
Episode
Status
Sonic Breath
Season 1
Episode 15
Rinkado
Dragon Flash
Season 1
Episode 15
Rinkado
Inferno Bomb
Season 1
Episode 26
Rinkado
Full-Nelson
Season 1
Episode 27
Jubitzu
Relationships
Edit